BRIDE OF FRANKENSTEIN - LIMITED EDITION SET!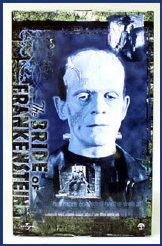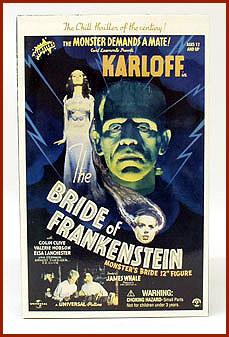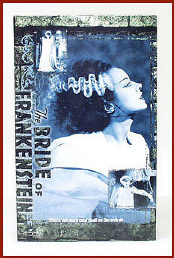 Film Clips from the Movie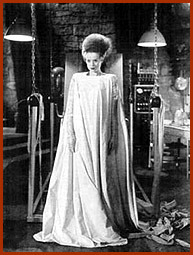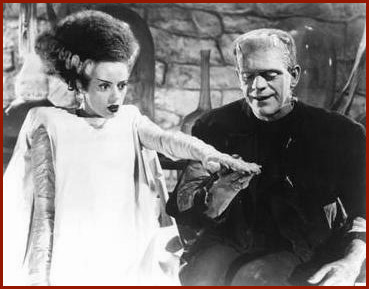 Photo of ACTUAL DOLLS - they are 12" Tall
These great figures are currently shipping! The Bride is stunning! She is patterened after the film creature, Elsa Lanchester! The figure features over 20 points of articulation, the white flowing gown and wrapped arms, an electrical heart monitor and clear heart containment vessel, and cobblestone display base.
The Monster comes with bone accessories featuring a skull that has an articulated jaw! The full color box art is exceptional!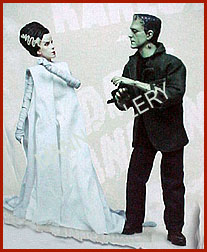 ARTIST and SCULPTOR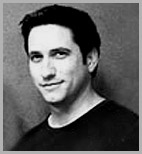 Artist/sculptor Mat Falls has worked with makeup maestro Rick Baker and on such films as Francis Ford Coppola's "Bram Stoker's Dracula" and Steven Spielberg's "Hook." He has had a background in special makeup effects and had an affinity since he was a kid to monsters in general -- not just the classics!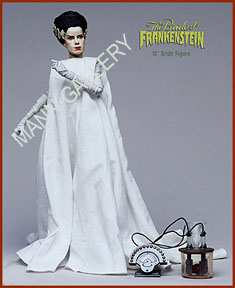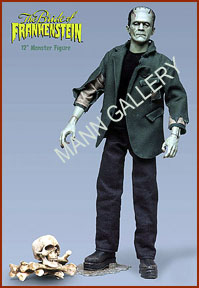 The 1935 Universal Studios film 'The Bride of Frankenstein' is considered to be one of the greatest horror films of all time and superior to the original 'Frankenstein' filmed in 1931. A spectacular, high camp, humorous and surrealistic, and macabre film, 'The Bride of Frankenstein' is the story of Dr. Frankenstein's ill-fated quest to create a mate for his misunderstood Monster..
CLICK THE "BUY NOW" BUTTON BELOW TO PURCHASE THIS SET
Buy it now INSTANTLY with PayPal: $79.00 the set Plus $6.50 Shipping and Insurance = TOTAL $85.50
USA PURCHASE ONLY (Out of USA please E-mail for shipping costs and method)
instant payment button!

CLICK HERE TO SEE NOSFERATU THE VAMPYRE!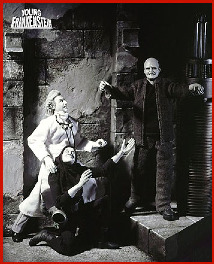 CLICK HERE TO SEE YOUNG FRANKENSTEIN SET!